With Planet Licker debuting at the Game Developers Conference as a weird but fun Indie game and Randy's Roadstop as a newly released VR title, it seems logical to think of these two in tandem. Combining such sexual ideas would result in quite the erotic experience. Wait, what am I talking about?
At the recent Game Developers Conference, a very strange game was featured. It's called Planet Licker, and is about a cute space monster who licks his way through a solar system of flavours (Gamasutra). Not much more is known about the game itself, no plot, characters, nothing. The animation appears to be a somewhat pixilated 2D animation, including colourful and detailed planets. Some planets feature a ring of clouds and city-like structures (is the monster eating these civilizations?) while other planets have trees and oceans. The emphasis, it seems, is to be on the game controller itself. The gamepad has three popsicles attached to it instead of thumb sticks or buttons, in similar placements. You lick the popsicles to propel the monster around the screen, avoiding obstacles and alighting on planets to "slurp" them out of existence.
The first time I heard this, I immediately thought about Gobstoppers and Jawbreakers. The candies turned out to not be nearly as fun as those, being just plain spherical balls of solid sugar. The candies and their inserts are replaceable, however I still think germs are an issue. Even with my own controller, I would have to treat it like I do my sex toys – I so much as touch them to an unwashed surface and it's back to the disinfectant. All in all, this is a weird concept for a game.

Sell it to the porn industry though, and you have a deal. Naughty America has introduced its first VR game, Randy's Roadstop. It's beautifully hetero-normative; the game caters first and foremost to America's most socially accepted sexuality. Randy is a spittoon spitting bad boy living off slot machine winnings in the deep desert of the West. He apparently spends his time and money on shooting nude photography, without a shred of honest intentions. As with most pornographic videos, the acting is terrible and the odd kinks are... odd. Nonetheless, the women are hot and Randy is kind of a weird sex addict.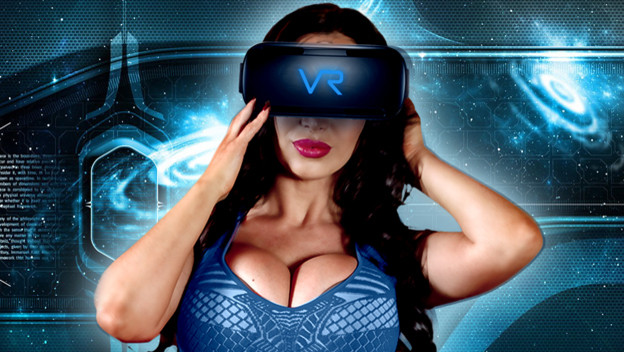 Virtual Reality is all about the first person perspective, putting the player in the main character's shoes. Though you may not feel what Randy's character is doing to the ladies, you can sure see every detail. The ability to look around, look closer, and even move inside a game that looks like a film is definitely a novel experience. For that matter, so is licking a candy to move your character around a screen. Combining the candy game controller with a porn VR game would open up a world of possibilities. Penis and vagina shaped candies could only add to the VR experience to the point of strawberry flavored realism. I would even go so far as to say it could help with sexual education. The player could learn far more intimately the various parts of a penis and vagina – what pleasures people most, what doesn't, and how different women and men vary in looks and arrangement. In addition, the flavors of the candy would be far more varied and appealing than the reality.
Though Planet Licker sounds like the next weirdest Indie game of this year, putting it in the context of a pornographic VR like Randy's Roadstop would make for some explicit fun and maybe even some education.